If we talk about which sewing machine will be the perfect one for beginners?
The obvious answer is brother ls14.
In this article, we will go through every single aspect out there of the Brother ls14 metal chassis sewing machine review that will help you figure out whether you should buy it or not.
For an affordable price, it is a good entry-level model machine, having metal chassis built with premium quality and satisfying features to work on different projects, as well as having good feedback from consumers make this machine really the first piece of cake for beginners and professionals too. The only drawback is that this machine has fixed stitch lengths.
but it is good value for money according to its quality.
Beginner Friendly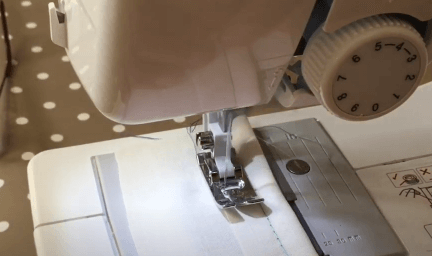 Brother ls14 in action
If you are a beginner then ls14 is the recommended machine for you. it is said that there is no easy sewing machine than ls14, even a child can also use it for sewing. In order to change the stitch you just need to turn the dial and select the stitch type you want, as simple as I write.
Last update on 2022-05-25 / Affiliate links / Images from Amazon Product Advertising API
Beneficial Features
• 14 Different stitches
• 4 Step buttonholes
• 50Watt motor
• Strong metal chassis
• Drop-in bobbin
• 6.2 Kg weight
Brother LS14 Stitches
Brother ls14 stitches
The Brother ls14 machine has got 14 different stitches. The stitches are straight with respect to their lengths also there are some zigzag stitches with different lengths and widths. Because there is no dial to control stitch lengths and widths, some customers don't like it.
but it's not a big deal because this machine is made for entry-level and the price value fits it in. Here are the fixed length of stitches that this machine provides1.6mm, 1.8mm, 2.0mm, 2.5mm, 3.0mm, and 4.0mm and the reverse fixed stitch length is 2mm.
Buttonholes
It has a four-step buttonhole.
Stitch Quality and Accuracy
According to the customer's feedback, there are enormous numbers of happy sewers. They review that the stitch quality is superior to other beginner brand machines that admire this machine to the up level.
Motor
This machine has a 50watt motor, according to my point of view this is not enough for sewing thick fabrics but we shouldn't worry about this because brother is a brand and it cares about fitting powerful motor either it is 50W or more.
However, you can easily hem 3 layers of fabric and you may have to apply little effort if you sew more than 3 layers of fabric, make sure to use the correct needles, thread, and tension setting for it.
Brother LS14 Bobbin System and Needle Plate
Brother ls14 with drop-in bobbin system and needle plate
Brother ls14 machine has a top-loading bobbin which makes it different from other beginner models, this invention makes us keep an eye on how much the thread is left.
Also, there's been a thread guide on the upper side area of the machine which is found helpful for newbies.
You need to use plastic bobbins as the company offers plastic bobbins. If you use metal ones the machine may damage so beware of it.
Brother LS14 Presser Foot Accessories
• Buttonhole foot
• All-purpose foot
• Zipper foot
Needle Threader
You need to do needle threading manually, the machine doesn't offer a needle threader.
Freehand Stitching
Brother ls14 feed dogs cannot be lowered so you need to purchase a darning plate separately also you will need a compatible presser foot for freehand stitching.
Portability
This machine is of course very portable as it weighs only 6.2 Kg, by keeping in mind of beginners this machine is made portable to carry wherever you want. This ls14 can be carried away to your sewing classes easily.
The Brand Name Brother
Brother is an innovative brand known for its qualities, features, and affordable pricing. it manufactures several electrical appliances,
Brother has over 100 years of experience in the sewing machine industry, the designs of their products are pretty cool and very easy to use they have a good guarantee period of time for peace of mind that makes everyone go for it.
Pros
Sturdy metal chassis
Great piece of cake for beginners
zipper foot
Cons
Limited built-in stitches
Fixed stitch length and width
Average motor power
Conclusion:
The powerful Brother ls14 metal chassis beginner-friendly sewing machine can be greatly performable for newbie enthusiasts even a child can easily use it. it is portable and lightweight. Stitching options are fabulous according to affordability and quality. The brother ls14 has a magnitude of 4.7 stars out of 5-star reviews that spokes about its great user fan audience. To dig more models see the reviews of Brother Xr7700 or Brother HC1850