Brother PE550D is the best affordable, lightweight embroidery machine that allows you to do genius embroidery with 125 built-in designs with 45 licensed Disney designs it also has a USB port to upload more designs and fonts according to your usage and interest.
The color LCD touchscreen allows you to view each design and font option and make thread color changes or make multiple adjustments to the built-in fonts.
Manuals and tutorials are comprehensive and customer support options for this model are awesome.
This machine is a perfect product for all creative embroiders.
The machine is user-friendly. All the functions are controlled by the push of a button. The digital touchscreen display helps in controlling the functions very easily.
The digital screen helps in selecting the design or embroidery and, The machine is easy to operate.
Specifications
Speed: 650 stitches per minute
Threads: 2(multi)
Light: LED Colored
Weight: 15 lbs.
Dimensions: 16.5 inches × 7.8 inches × 12 inches
Sale
Last update on 2022-08-08 / Affiliate links / Images from Amazon Product Advertising API
Brother PE550d Embroidery Machine Reviews
Rich Features
Brother PE550D Designs
This PE550D includes an impressive 125 built-in embroidery patterns and designs, it has 45 Disney designs and 9 different fonts in English and Japanese.
The patterns stored in the machine include floral alphabet letters, Fabulous Brother designs, a variety of borders, frames, and character designs. The drop-in bobbin is easy to wind and the transparent bobbin case cover allows you to easily monitor thread usage.
LCD Touch Screen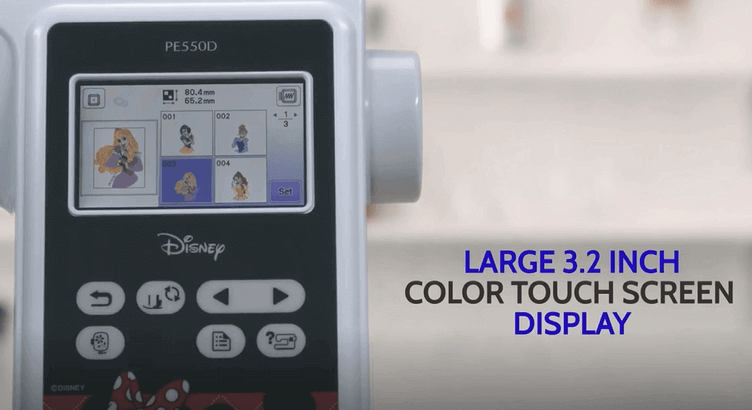 Large 3.2-inch color touch screen display to go with different options
This colored touch screen/digital screen allows you to change design and font selection.
In order to make color changes on threads, you can also change the color of the design background to perfectly match the fabric you are working in.
you can select the pattern by navigating left to right with an arrow if you make any mistake in design or font you can simply press the delete button to erase it.
Needle threader
The machine has an automatic needle threader that makes sure that the thread goes through the needle's eye easily without much effort. This avoids the strain caused on the eyes while threading.
Font styles
The machine has built-in 6 English fonts and 3 Japanese fonts, besides this you can also upload new fonts using a USB port.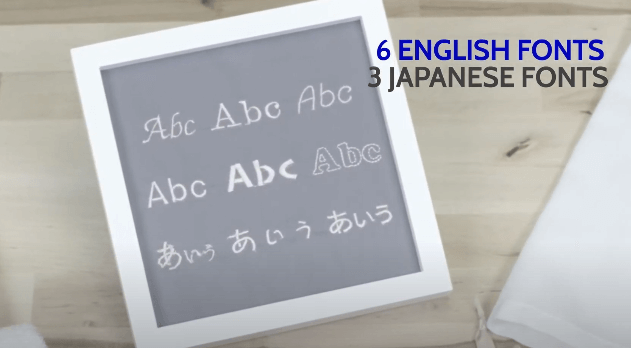 Built-in 6 English fonts and 3 Japanese fonts
USB port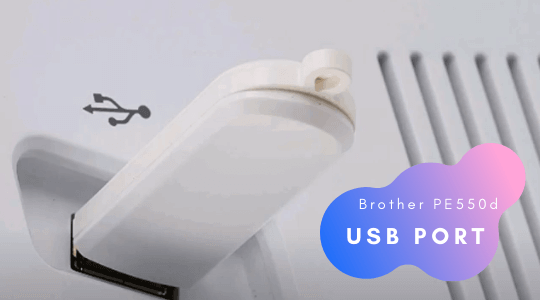 USB Port for uploading new designs and fonts
You can add New Designs and Fonts to the machine, you can import those, using a Pendrive.
Embroidery field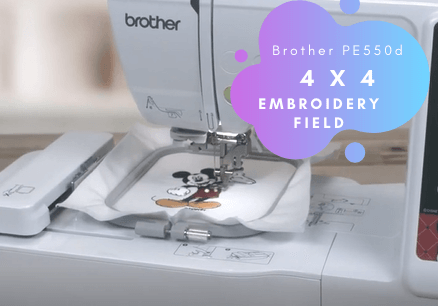 Brother PE550d has a 4 x 4 Embroidery field
The machine has a 4 x 4 inches embroidery field to work on the respective design. The machine is also provided with a grid sheet and design alignment tool to work on the design magnificently.
Dust cover
A safety case is provided along with this machine to get rid of dust, you can apply it to cover when the machine is not in use.
Physical Structure
The machine body is just tremendous its dimensions are 16.5 x 7.8 x 12 inches and the weight of the machine is 23.1 pounds
Warranties
Brother includes a warranty of 25 years on manufacturing defects, parts, and labor and also provides free online technical support.
Pros
User Friendly: The Brother PE550D is very easy to set up and operate
Multiple Design Options: This model includes 125 built-in embroidery plan choices
LCD Display: This computing device includes a large shade LCD touchscreen for selecting designs and making edits
Budget: It is affordable
Cons
Single Embroidery Hoop Size: PE550D is limited to a 4 x 4-inch hoop
Embroidery only: This is not a multifunctional machine
Conclusion:
It is an ideal choice for all fashion users who want to design and embroider clothes. This special craft machine works elegantly for all kinds of embroidery.
It is fully automatic. Just select the design or font you want. Design can be easily selected using the LCD sensor.
Fonts are also programmed on the machine. This machine is a must for any fashion lover who likes to create embroidery clothes and crafts. Here you found the full Brother Pe550d review with all its features, pros, and cons.
If you want to check one more best machine of embroidery & sewing combo then it's Brother se600.
ᐉ Brother PE550d Embroidery Machine Reviews: UPDATED 2022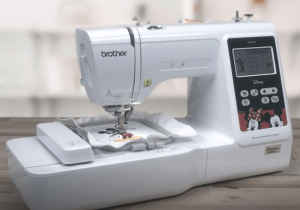 User Friendly: The Brother PE550D is very easy to set up and operate Multiple Design Options: This model includes 125 built-in embroidery plan choices Budget: It is affordable
Product Brand: Brother pe550d
Product Currency: $
Product In-Stock: InStock