According to its quality, the Brother FS40 is a masterpiece machine bound with 40 Stitches, a Start/Stop Button, Speed slider, 15 Needle positions, Needle up/down functionality, & depending upon where you buy an extension table for easy quilting and big length projects, easily use for beginners as well as ultra skill sewers.
The LCD feature is very awesome you can easily select the stitch type as you want, comes with a DVD and manual which is a winning point for beginners.
Speed slider is very comprehensive if you are a beginner you can control it your way.
Specifications
Name- Brother FS40 Computerized Sewing Machine
Dimensions- 39 × 17 × 29 cm³
Weight- 20 lbs or 9.07 kg
Controls- LCD screen
Light- LED
Stitching Speed- Variable
Number of Presser Feet- 7
Number of Built-in Stitches- 40
Length of the Stitch- 7mm
Width of the Stitch- 4mm
Needle Threader- No
Drop Feed System- Yes
Button-hole Styles- 5 styles of 1 step buttonhole
Accessories- Twin needle, seam ripper, extra spool pin, a foot pedal, dust cover, extension table, DVD instructional.
Biggest Pros- 15 needle position & great stitch quality
Biggest Cons- Lacks needle threader & motor is less powerful.
Last update on 2022-06-30 / Affiliate links / Images from Amazon Product Advertising API
Beneficial Main Features
The brother Fs40 computerized sewing machine has the following features.
Brother Fs40 Stitches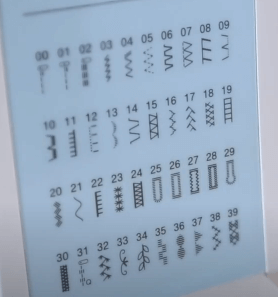 Brother fs40 has 40 Stitches
The Brother Fs40 sewing machine has 40 Stitches including 5 Buttonhole Stitches, 16 Decorative Stitches, and a great number of Stretch/Elastic Stitches. This is enormous for both beginners and extra-ordinary/advanced-level sewers.
If we talk about stitch length and width, they are 7mm & 4mm respectively. That is very sufficient in this machine.
Presser Foot System
The Brother Fs40 comes with 7 presser feet, they are right here below.
• Blind Stitch Foot
• Button Fitting Foot
• Buttonhole Foot
• Overcasting Foot
• Monogramming Foot
• Zipper Foot
Brother Fs40 Bobbin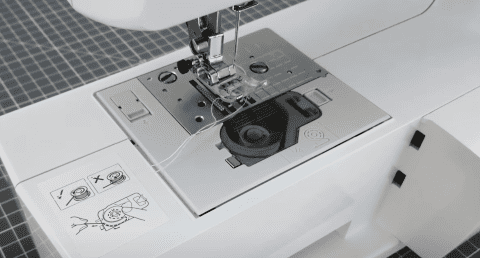 Drop-in top-loading bobbin
It has an innovative drop-in top-loading bobbin. Usually, I like this type of transparent bobbin cover because we can keep an eye on the bobbin and how much thread is left. That's a really acknowledgeable point, that's why many people like this feature.
Drop Feed System
You can also drop feed dogs in this machine whereas Brother Fs100WT doesn't come with an embroidery foot. so, that you can do free-motion sewing works.it also features an automatic bobbin winder system that's great.
LCD Screen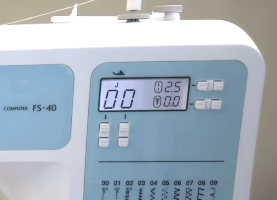 LCD Display for easy presser feet selection
The LCD screen is small but it's worth & better working. The main feature that comes in hand, is the suggestion of presser feet. yes, you heard right it suggests which presser feet you have to use for every individual stitch.
Needle Threader
This is the drawback of the brother Fs40 model. This machine doesn't come with a needle threader, if you are suffering from poor eyesight you may feel guilty for this missing tool but if you really wanna go with this machine then you can consider buying a needle threader externally.
Motor
This is again a little downfall with a 40W motor, on brother Fs40 you have to struggle with heavy or more layer fabrics and upholstery projects but using the correct needle may make your struggling effort a little bit far away.
Speed Control
Start/stop button & Speed control with the speed slider
It comes with an advanced foot pedal along with the Start/Stop button this is very helpful even a child can easily sew using those start/stop buttons. it is very beneficial for those people who are suffering from arthritis, leg issues, and mainly disabled people. it also does come with a speed slider through that you can control the sewing speed according to your project and critical sewing areas, this can be a stunning plus point for beginners.
And the sewing speed of this machine is variable. You can adjust your sewing speed using a speed controller.
Reverse Stitching Switch
It has a reverse stitching switch for stitching in reverse on your fabrics. For reverse stitching, hold down the switch while pressing the foot pedal.
Remember to hold down the reverse switch until you finish your reverse sewing works.
See Also:-
Needle Threader
Unfortunately, brother Fs40 doesn't provide a needle threader this can be quite problematic if you have a problem with your eye-sight. But I will suggest you buy a manual pin needle threader that can really be proven as an eye saver for you.
Foot pedal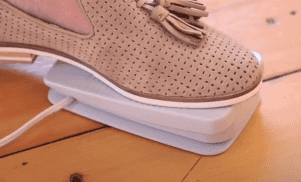 Foot pedal
Bother FS40 also provides you a foot pedal, it depends upon your desire and what you wish to use either the start/stop button or a foot pedal. Some people like to use a foot pedal, whilst as a bonus, a button is there for you on the sewing machine.
Design
39cm ×17cm ×29cm Dimension Design
It is well designed fabulous stitching performance high-speed sewing machine with 39cm ×17cm ×29cm dimensions. The stitching quality is quite great whilst the machine has used more plastics in place of metals, although it doesn't feel cheap it may not run longer in comparison to other metal class machines.
Consequently, the plastic body makes it easily portable to carry everywhere either from sewing class or friend's home.
Accessories
It comes with an extension table depending on where you buy it. it also comes with a thin cover bag that can be used to cover the machine when it's not in use and the giant bonus for beginners is DVD, yes it comes with a DVD through which you can learn very minute like things as how to thread, various tutorials are packed in.
It comes along with the following accessories as listed right below.
• 7 pressers feet
• Needle set
• Twin needle
• Seam ripper
• Cleaning brush
• Screw-driver disc
• Extra spool pin
• Foot controller pedal
• Instructional DVD
5 Styles of 1 Step Buttonholes
It comes along with 5 styles of 1 step buttonholes that enable you to create buttonholes on your fabrics and then, you can attach them using a button sewing foot.
Dust Cover
It comes along with a dust cover so that you can make your sewing machine dust-free.
Extension Table
It also comes with an extension table that makes your sewing area wider so that you can sew on larger fabrics.
Warranty
It comes with 3 years of warranty that initiates us in real peace of mind. According to my experience with this machine, my must suggestion is to always use plastic bobbins.
The use of a metal bobbin will affect stitch quality and in the same condition, it will damage the machine and invalidate your warranty. If there will be an issue regarding your machine, you can easily take support from the Brother customer helpline number.
Frequently Asked Questions (FAQs) Some Brainstorms
Is brother fs40 low shank?
Yes, brother fs40 is a low shank sewing machine. Almost all the domestic sewing machines are low shank.
Is brother fs40 weighty?
No, I don't think it's weighty. To be honest, it is lightweight, portable, and easy to store.
Is brother fs40 good for beginners?
Absolutely yes, this machine is specially designed for beginners. You can see the ease of use of this machine with many easy and automatic features.
Pros
Sufficient/Great number of presser feet
Start/Stop Button
Separate Speed Slider
Beginner-friendly
Needle up/down functionality
15 Needle positions
Great stitch quality
DVD Tutorials
Drop-in bobbin
Portability
Cons
No needle threader
More plastic components
Average motor power
Immediate Notes
Brother fs40 is a computerized sewing machine that is an excellent value for money-bound with limited but great quality stitches. It is less powerful but very sturdy and perfect for beginners because it has start/stop/reverse buttons, a speed controller, & easy bobbin winding. All these things really make it the best choice for beginners.
Conclusion:
Brother FS40 is a superb machine for beginners as well as high-end sewers it does provide 40 advanced stitches, a start/stop button, a speed slider(for controlling speed), and a foot pedal.
Drop-in bobbin lets you keep an eye on the bobbin that how much thread is left.
DVD tutorials for beginners.
Needle up/down functionality is mind-blowing.
Excellent stitch quality.
This machine doesn't provide a needle threader
It has an average motor power capacity.