Brother ST531HD Overview
• Brother ST531HD is a strong & heavy-duty sewing machine that has built-in 53 stitches, 6 snap-on presser feet, and can sew from multiple layers of heavy-weight fabrics to light-weight silk.
• Advanced features include automatic needle threader, Quick set-up top drop-in bobbin, automatic bobbin winding, and a free arm for sewing sleeves, cuffs, collars, & jeans.
• This machine also has a drop feed mechanism so that you can do free-motion sewing conveniently.
• It has a built-in carrying handle so that you can take this machine to your classes, events & clubs conveniently.
• It has 6 point feed dogs which surely helps you in your free-motion sewing projects. This time brother has really done outstanding work.
• It supports a twin needle which is very useful to you for sewing thick fabrics like denim, canvas, or making decorative stitches.
Specifications
| | |
| --- | --- |
| Name | Brother ST531HD computerized sewing machine |
| Dimensions | 19.09×14.29×10.2 |
| Weight | 14.3 lbs or 6.486 kg |
| Speed Controls | No |
| Speed | 800 stitches per minute |
| Number of Built-in Sewing Stitches | 53 |
| Number of Presser Feet | 6 |
| Needle Threading System | Automatic |
| Light | L.E.D |
| Accessories | 6 presser feet, screw-driver, spool pin, bobbins, dust cover, etc. |
| Biggest PROS | portable, long-lasting, sturdy, can sew on almost all types of fabrics. |
| Biggest CONS | lacks automatic thread cutter |
Last update on 2022-05-25 / Affiliate links / Images from Amazon Product Advertising API
Easy To Set up & Use
Like Brother ST371HD heavy duty sewing machine, this machine is also very easy to set up & use because it also includes a power cord, foot controller, auto needle threader, easy bobbin winding, & many more in-built features that are right below one after another.
Beneficial Key Features
This machine includes a lot of features that are really too much beneficial for all beginners as well as expert sewers. Let you have a look at all these features right below one after another.
Brother ST531HD Stitches
It has 53 built-in stitches including blind hem, zigzag & decorative stitches. These stitches enable you to sew all types of fabrics & denim. You can select these stitches as per your choice then, you can continue your sewing projects
One Step Auto Sized Buttonholes
It includes one-step auto-sized buttonholes for creating buttonholes on your fabrics. After creating buttonholes, you can then attach buttons to your fabric using a button-hole foot.
Stitch Selector
It has a built-in stitch selector for making your stitch selection works conveniently. Before sewing your fabrics, first, you have to select your stitch among the different available stitches.
Reverse Stitch Sliding Lever
Reverse sewing slider
This machine enables you to do reverse stitching. For reverse stitching, hold down the reverse sewing lever while pressing the foot controller pedal.
Note- Always keep the lever down while doing reverse stitching because if you will release the lever, the machine will start sewing regular stitches again.
Presser Foot
Like brother ST371HD, this sewing machine also comes along with 6 presser feet. They are right below.
• Spring action zigzag foot
• Zipper foot
• Blind stitch foot
• Button-hole foot
• Button sewing foot
Brother ST531HD Bobbin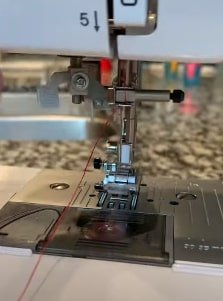 Drop-in bobbin
When it comes to bobbins, I always prefer a top-loading bobbin & luckily this machine provides you Quick set-up jam-resistant top drop-in bobbin. This bobbin is automatic and that's why it is very easy to wind & set up this bobbin.
Also, there is a transparent covering of the bobbin which enables you to see the number of threads left-right over there.
Adjusting Thread Tension
There is a dial wheel on the top of this machine that allows you to adjust the thread tension of this machine, just by rolling it forward & backward.
Display
This machine has a built-in display where you can see the stitch you have currently selected for sewing on this display.
Automatic Needle Threader
There is an automatic needle threader on this machine that helps you to accomplish your needle threading tasks conveniently.
Design
This machine is designed in the same way as brother ST371HD has been designed. It is compact designed, light-weight, portable, & looks very nice. The colors of the brother ST531HD & ST371HD sewing machines are a little bit different but look very similar in functions.
Brother ST531HD Foot pedal
This machine provides you with a foot controller pedal so that you can start, run, stop, & maintain sewing speed conveniently. Even, without using this pedal you can operate & run your machine.
LED Light
Just above the sewing areas of this machine, there is an LED light that makes your sewing area bright so that you can do your sewing tasks conveniently in a dark place or on dark fabrics.
This light is also helpful for your free-motion sewing works. While doing free-motion sewing, you need full concentration on your fabrics and needles.
Brother ST531HD Storage
The sewing area of this machine features a storage compartment that enables you to store all your sewing materials as well as other included accessories.
It's a great feature of this machine because it keeps all your sewing materials very close to your hand.
Free Arm
This machine has an option of a free arm that allows you to sew your sleeves, cuffs, hems, collars, & jeans.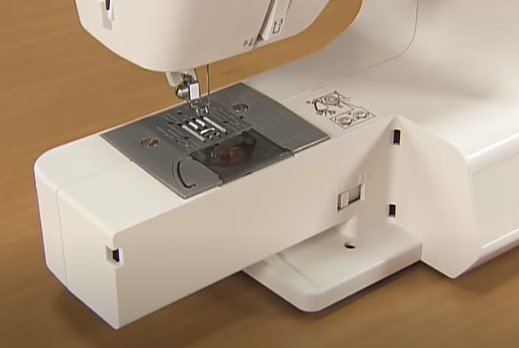 Free arm: Jeans lifesaver
This feature also allows you to sew baby clothes as baby clothes are very small and they are hard enough to sew.
If you have done using free arm then, you can store some handy materials in the storage compartment.
Finger Guard
It comes with a metal finger guard to protect your fingers from injuries. This is just tremendous to get a sewing machine with a metal finger guard.
Seriously, this is the first sewing machine I have come across that comes with a finger guard.
From now, I hope this finger guard gonna protect your fingers from any hurt or injury.
Metal Needle Plate
It includes a needle plate that is made up of metal instead of plastic, which makes it stronger and more durable and also makes your fabric feeding works smoother for stitching.
Needles
It comes along with three-needle of different sizes that gonna help you in sewing various types of fabrics. They are listed right below.
• #16 needles are used for sewing on thick fabrics such as denim.
• #14 needles are used for sewing on multiple layers of fabrics.
• #11 needles are used for regular sewing works such as sewing on lightweight silk.
Built-in Carrying Handle
There is a built-in carrying handle located on the middle top of this machine that enables you to take your sewing machine to your classes & events. This handle makes your sewing machine very much portable.
Brother ST531HD Accessories
It comes with the following accessories as listed right below.
• 6 sewing feet such as spring action zigzag, buttonhole, button sewing, blind stitch, nonstick, & zipper foot.
• 4 Bobbins
• Spool pin
• Finger guard
• 3 piece needle set
• Twin needle
• Screwdriver
• Power cord
• Foot controller
• Instructional DVD
• English/Spanish operation manual
Pros
Portable
Easy to set up & use
Auto needle threader
Quick set top drop-in bobbin
Long-lasting & sturdy
User friendly
powerful
Built-in carrying handle
Good quality smooth sewing stitches
Cons
Lacks automatic thread cutter
Stitch selection is a little bit complicated
Immediate Notes
Brother ST531HD is a heavy-duty most flexible and durable sewing machine providing you 16 more stitches than the Brother ST371HD sewing machine and can sew multiple layers (about 6 layers) of heavy-weight denim to light-weight silk.
Conclusion:
• Brother ST531HD computerized sewing machine is a good machine for both beginners as well as expert sewers. It is very useful in almost all sewing works because it has a lot of built-in stitches and many automatic functions such as automatic needle threading & bobbin winding system.
• It is very smooth working and very much durable so that you can do your sewing works conveniently for many years.
• It lacks an automatic thread cutter, but I think that's never gonna make any trouble in your thread cutting process because it has built-in a manual thread cutter at the side of this machine. You can cut off your threads with this manual thread cutter.
• After researching a lot on this machine, I have concluded that this is one of the best machines for all your sewing projects.
• Hope, this review is gonna be helpful to you for getting full information about this machine and also it may help you in buying the best sewing machine.
Some Brainstorming Frequently Asked Questions(FAQs.)
Is this machine perfect for beginners as well as expert sewers?

Yes, this machine is perfect for beginners as well as expert sewers because it has built-in plenty of satisfying stitches and also has a bundle of automatic features, and that's gonna be helpful in all your sewing projects.

Can this machine sew on thick fabrics?

Absolutely yes, this machine is made for sewing all types of fabrics. You can sew on light-weight fabrics to heavy-weight fabrics.

Is this machine helpful for sewing sleeves, cuffs, and jeans?

Yes, because this machine provides you a free arm option so that you can sew your sleeves, cuffs, & jeans conveniently.

Is this machine portable?

Yes, Because it is lightweight and built-in carrying handle, this machine becomes very much portable and very easy to store.