1. Brother PQ1500SL is computerized quilting and sewing machine that sews with a high speed of 1500 stitches per minute- comes along with 7 presser feet and other included accessories.
2. Advance features of this machine include an automatic needle threader, automatic thread trimmer, built-in knee lever, feed dog height adjustment, thread tension control, and adjustable presser foot pressure.
3. It has built-in a large working area of about 7″ height × 8.6″ width which allows you to work on larger fabrics.
4. It has built-in a bright LED light for your sewing and quilting works even on dark fabrics.
5. It comes with metal bobbins so that it can last for a long time and also can hold more threads.
Specifications
| | |
| --- | --- |
| Name | Brother PQ1500SL Quilting and Sewing Machine |
| Dimensions | 25 × 11.8 × 14.6 inches |
| Weight | 29.8 lbs or 13.517 kg |
| Stitch Width | 7mm |
| Built-in Knee lever | Yes |
| Maximum Stitching Speed | 1500 stitches per minute |
| Number of Sewing Feet | 7 |
| Number of Built-in Stitches | Only Straight stitch |
| Presser Feet Pressure Adjustment | Yes |
| Needle Threading System | Automatic |
| Built-in Automatic Threader Cutter | Yes |
| Lighting Type | LED |
| Quick Set Bobbin | No |
| Bobbin Winding System | Easy |
| Biggest PROS | Sturdy and highly durable |
| Biggest CONS | Non- portable |
Easy to Set up & Use
According to the users of this machine, this machine is very easy to set up and use as it has built-in many automatic and easy features. However, you may feel some trouble at first while threading the needle.
But if you practice it 2 to 3 times, it will become quite easy for you to thread the needle.
Brother pq1500sl Features
The Stitches
Brother PQ1500SL is considered mechanical sewing and quilting machine because it lacks fancy built-in stitches, buttonholes, or any other computerized sewing options.
It is just a high-speed straight stitch sewing and quilting machine. It has only one stitch and it does sew straight stitch only. The straight stitch is the basic utility stitch that will be used for most of your sewing and quilting projects.
Stitching Speed
It does sew with a high speed of 1500 stitches per minute. This is why it is considered one of the best lightning-fast sewing and quilting machine. The high-speed sewing stitch allows you to accomplish your tasks quickly.
Adjusting Stitching Length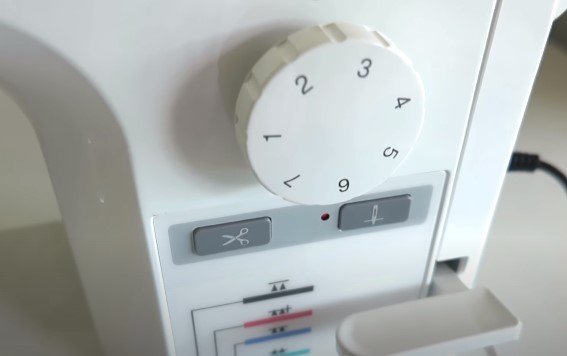 The length of the stitches of this machine varies from 1 to 7 mm. If you want to increase or decrease the length of your sewing stitch, you just have to shift the stitch length regulating dial that is located on the front side of this sewing machine.
Presser Feet
It comes along with 7 presser feet as listed right below.
• Spring action quilting foot • Straight stitch sewing foot • Adjustable zipper foot • Invisible zipper foot • Rolled hem foot • 1/4″ piercing foot • Walking foot and a seam guide
Adjustable Presser Foot Pressure
This feature allows you to either increase or decreases the pressure applied on the presser foot. For sewing thin fabrics, you would better increase the pressure. And for sewing thick fabrics you should decrease the presser applied on the presser foot.
Bobbins
This machine provides you with metal bobbins. These bobbins are sturdy and highly durable and hold a larger number of threads.
For winding the bobbins, it has a bobbin winder which helps you to wind your bobbin quickly and conveniently. The bobbin winder stops automatically once the bobbin is winded up fully.
Setting up the bobbin in the bobbin case is somewhat complicated but if you practice it 2 to 3 times, you can easily set it up the bobbin in the bobbin case.
Speed Controller
It lacks a speed controller, this machine provides you with a foot pedal for adjusting your stitching speed. You can raise and lower your sewing speed as per your choice using the foot pedal.
Adjusting Thread Tension
If you are using a thinner or thicker thread in your bobbin then, you may need to adjust your thread tension. So for adjusting thread tension, it has a built-in dial. You just have to turn this dial a little time and it will adjust your thread tension.
Adjusting Needle Position
It has built-in a handwheel located on the side of this machine for adjusting the needle position of this sewing machine.
Brother pq1500sl Automatic Needle Threader
It has built-in an automatic needle threader for making your needle threading work convenient. Also, it saves your time by fast threading your needle.
Automatic Thread Cutter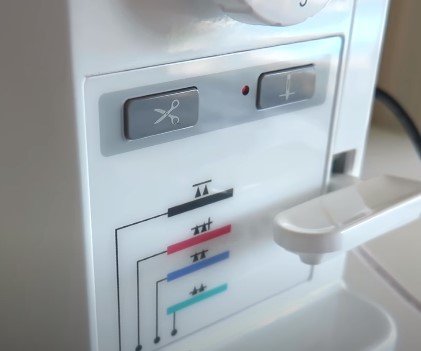 It has built-in an automatic thread trimmer button for cutting your threads. With just a touch on the button, this built-in thread cutter trims the thread.
Design
It is designed heavy-duty, compact with dimensions of 25″ × 11.8″ × 14.6, and looks quite nice. Because of its wide working area, it looks somewhat bigger in size than other old sewing machines.
Foot Pedal
It comes along with a foot pedal for raising or lowering your sewing speed. As per your need, you can adjust your stitching speed.
Knee Lifter
This is a valuable feature for quilters that allows for hands-free lifting and lowering of the presser foot, so you can focus on removing or re-positioning your fabric.
This feature also helps you to adjust the tension without stopping your quilting work.
You need to operate Knee-lifter at the proper pressure, and it will boost your quicker speed as well.
A Large Extension Table
It comes with a large extension table that makes your working area larger so that you can sew on larger fabrics.
LED Light
It has built-in a super bright LED light just above the sewing area that creates a super bright working area. This LED light enables you to sew on dark fabrics and also it helps you to do free-motion quilting works.
Feed Dog Height Adjustment
This feature allows you to accommodate the four heights of the feed dogs in just about any project. If you do quilting you will surely love this feature.
A pin feed is also included which extends from beneath this machine. This pin feed allows you to move your quilt layers together with ease and also allows you to sew on different fabrics such as velvet without leaving feed dog marks behind.
Dust Cover
It comes along with a dust cover so that you can keep your machine away from dirt and dust by covering it after every use.
Brother PQ1500SL Accessories
• 7 sewing feet • Needles • Ballpoint needle • 2 screwdrivers • Spool cap • 5 metal bobbins • A cleaning brush • Feed pin • A seam guide • Spool cushion • A dust cover • Knee lifter • Foot pedal • Fabric separator • Included extension table • Operation manual
Pros
Built-in with automatic time-saving features
Perfect for free-motion quilting
Sews on heavy & multiple layers of fabrics
Large quilting table
High-speed stitching
Sturdy and highly durable
The major parts are metals
Affordable price
Easy to use
Cons
Vertical bobbins
Non-portable
Immediate Notes
Brother PQ1500SL is the best heavy-duty sewing machine for quilting and sewing on most types of fabrics- offers many automatic time-saving great features. The only drawback of this machine is that it has a vertical bobbin which doesn't allow you to see the number of threads on the bobbin.
Conclusion:
• Brother PQ1500SL high-speed quilting and sewing machine is the best affordable machine for quilters.
• Even this project runway sewing machine offers only one stitch, it is a dream machine that belongs to the quilters.
• Especially, this machine is recommended to the quilters. If you are a beginner then, this machine may be less suitable for you. So, I recommend you to look for Brother CS6000I Sewing and Quilting Machine Reviews.
• If you really want to enhance your sewing as well as quilting skills, I recommend this machine to you because it is great for quilting and sewing.
• Hope this complete review helps you to understand all the awesome features of this machine.
Sale
Last update on 2022-05-25 / Affiliate links / Images from Amazon Product Advertising API
Some Frequently Asked Questions (FAQS)
Is Brother PQ1500SL a high or low shank machine?

Brother PQ1500SL is a high shank sewing machine, but there are adapters you can buy from the markets or stores that enable you to use the snap-on feet.

Is Brother PQ1500SL a portable sewing machine?

No, it is not portable. As it weighs about 29.8 pounds, it becomes too heavy to carry this machine alone.

What about the warranty of this machine?

Brother offers a different warranty on their sewing machines on the basis of the components of a sewing machine.
For parts and labor, the warranty is 2 years, for the electronics warranty is 6 years, and for the chassis, the warranty is 25 years.