Are you thinking to buy the Singer 4411 Heavy Duty sewing machine? Well! In this review of Singer 4411, I will tell answers to many questions related to this sewing machine.
I will cover all the major features and tell you about the pros and cons so you can make the right decision if it's the perfect machine for you.
The Singer hd4411 sewing machine is constructed with a metal frame, has built-in 11 stitches, and gains a max sewing speed of 1100 spm, allowing it to handle most types of sewing projects.
It is one of the best cheap sewing machines that can sew most sewing projects if you use the right needle and thread.
If you're in hurry and wanna know all about this machine in one shot, let's read the overview right below:
Singer 4411 Overview
Singer 4411 heavy-duty sewing machine has 11 built-in stitches and one 4-step buttonhole.
It includes an LED light that lights up your sewing area.
It includes a top-loading bobbin which is easy to set up and load.
It comes along with 4 snap-on presser feet that can be operated easily.
It has a drop feed mechanism for free-motion quilting.
It has a free arm for sewing smaller projects.
It can sew through thicker materials such as leathers, denim, & upholstery fabrics, also you can sew pillowcases, face masks, curtains, and so on.
It also includes some basic features such as a reverse stitch dial, tension dial, stitches length dial, stitches width dial, stitch selection dial, & needle position dial.
Major Specifications
• Dimensions: 15.5 x 6.2 x 12 inches
• Weight: 14.5 pounds or 6.577 kg
• Built-in Stitches: 11
• Buttonholes: 1 auto 4-step buttonhole
• Included Presser Feet: 4
• Maximum Sewing Speed: 1100 stitches per minute
• 24-year limited warranty
Key Features
Easy To Set up & Use
If you look at the ease of operating this sewing machine, it's quite easy to sew any domestic projects with this sewing machine. But it lacks an automatic needle threader, so you have to thread the needle manually to take this machine into operation. By the way, the brand Singer is famous for its name and quality so you won't regret purchasing one for yourself.
Eleven Built-in Stitches
This machine has 11 built-in stitches including 6 basic stitches and 4 decorative stitches. These stitches allow you to sew most types of your sewing projects.
See All Stitches on Amazon
Super Fast Stitching Speed
It gains a maximum stitching speed of 1100 stitches per minute that ensures quick sewing or quilting of your domestic projects with ease. This superfast stitching speed also allows you to sew through heavy fabrics with ease.
Sewing Capability
This sewing machine can sew through different kinds of fabrics with ease including leather, denim, as well as upholstery fabrics. With this machine, you can even sew smaller projects such as face masks, pillowcases, towels, bags, etc.
Buttonholes
It has an automatic four-step buttonhole stitch. Now, you can save your time by working with this extra high stitching speed and 4-step buttonhole stitch.
Although the buttonhole is automatic you have to do a couple of things manually.
4 Different Presser Feet
It comes along with 4 different presser feet for sewing and quilting different projects. These includes:
• Zipper foot
• Button foot
• Buttonhole foot
• All-purpose foot
LED Light
The Singer 4411 has a built-in LED light that illuminates the sewing surface so that you can work even in the dark without frustrating your eyes. This feature lets you not get tired of sewing at any time.
Drop-in Bobbin System
It comes with a drop-in bobbin system that allows the bobbin to drop in place.
This bobbin has a clear plastic cover that allows you to see how much thread you have left- a great thing to look for when buying a sewing machine.
Drop Feed Mechanism
It includes a dropping feed mechanism for free-motion sewing. This feature helps you to do quilting smoothly on your fabrics without any frustration.
Adjustable Presser Foot Pressure
It includes an adjustable presser foot pressure dial that enables you to glide from lightweight to heavy-weight fabrics.
60% More Powerful Motor
It has a 60% more powerful motor in comparison to another sewing machine in this range. This motor helps you while sewing through heavy fabrics such as denim, leathers, woolen fabrics, overcoat fabrics, etc.
Heavy Duty Metal Internal Frame
The internal construction of this machine is made up of a heavy-duty metal frame that increases the durability of this Singer sewing machine. Additionally, this feature ensures that it is enough sturdy to tackle heavy fabrics.
Stainless Steel Bed Plate
It includes a stainless steel bedplate that ensures the smooth feeding of your fabrics regardless of their weight. It is really a great feature that ensures you sew your projects quickly with ease.
Free Arm
The Singer 4411hd sewing machine includes a free arm option that enables you to sew collars, hems, and many other things within a limited period of time.
Dust Cover
Along with plenty of accessories, the Singer 4411 comes with a dust cover that protects your sewing machine from any foreign particles such as dust. For the safety and durability of your sewing machine, you must always keep your sewing machine covered after use.
Low Price
If you look at both the features as well as the price of this heavy-duty sewing machine, you just can't ignore this one because it is priced inexpensive according to its features. It's a great piece and priced reasonably.
Low Maintenance
This sewing machine needs low maintenance expenses as it is a mechanical machine. Additionally, this model provides you with a 25-year limited warranty. So, you can use your warranty card for repairing your sewing machine.
Warranty
The Singer 4411 heavy-duty sewing machine comes with a 90 day/ 2 yr/ 24 yr limited warranty from the date of purchase & this warranty breaks down as follows:
• 90-day warranty for rings attachments, belts, and adjustment
• 2-yr warranty on its electronic components, motor, wiring, light assembly, etc.
• 24-yr warranty on the head of the sewing machine
For detailed information on the warranty, kindly visit Amazon.
Singer 4411 Accessories
It comes with plenty of accessories that are almost enough to operate sewing your domestic projects.
• 3-bobbins
• Needles
• All-purpose foot
• Button sewing foot
• Buttonhole foot
• Zipper foot
• Auxillary spool pin
• Foot pedal
• Lint brush
• L-screwdriver
• Quilting guide
• Power cord
• Foot pedal
• Dust cover
• Instruction manual
Pros
Inexpensive one
Powerful motor
Includes thread cutter
Solid metal interior design
Can sew on different kinds of fabric
Cons
Included limited stitches
Not equipped with an automatic needle threader
My Verdict
If we compare Singer 4411 with Singer 4452, we will find Singer 4452 more adorable than the Singer 4411 because Singer 4452 includes an automatic needle threader, has built-in 32 stitches, and can sew through more kinds of fabrics while the Singer 4411 lacks an automatic needle threader, has built-in only 11 stitches, and can't sew through tough and heavy fabrics.
The Singer 4411 is a powerful sewing machine, capable of sewing through denim, leathers, and heavy fabrics. If you want a cheap sewing machine for your domestic projects, then it can make your sewing a breeze.
However, if you want a perfect heavy-duty sewing machine that is equipped with an automatic needle threader then why not check out our Singer 4452 heavy-duty sewing machine review.
Last update on 2022-05-25 / Affiliate links / Images from Amazon Product Advertising API
Singer 4411 vs Singer 4423
On comparing the Singer 4411 with 4423 we find a lot of similarities between them as listed below:
• Internally, both machines are constructed with metal frames and both have stainless steel bedplates.
• They both come with top-loading bobbins with transparent covers.
• They belong to the same company.
• Both can tackle through heavy fabrics.
• Both are good according to their price.
However, there are some differences between the Singer 4411 & 4423 as 4411 has only 11 built-in stitches while 4423 has 23 built-in stitches. The Singer 4411 lacks an automatic needle threader while the 4423 includes an automatic needle threader.
Despite these differences, if we look at overall features and compare the price of both the Singer 4411 & 4423 heavy duty sewing machines, both are great at their place because of their low price and high-quality features.
Singer 4411 vs Singer 4452
However, if you want a cheap sewing machine for the domestic purpose the Singer 4411 is good. But if we will look at Singer 4452 heavy-duty sewing machine, then this is a masterpiece.
Frequently Asked Questions (FAQS)
Can a Singer 4411 sew leather?
With an extra high stitching speed, the Singer 4411 can sew through some kinds of leather but not of industrial grade.
Does Singer 4411 include an automatic needle threader?
No, it doesn't include an automatic needle threader. It's a little bit disappointing not to have an automatic needle threader on this machine.
However, it's quite a great machine if you look at overall features.
Is the Singer 4411 low shank?
Yes, the Singer 4411hd is a low shank sewing machine. I prefer using a low shank sewing machine for domestic purposes.
Does Singer 4411 need oil?
Even though the Singer 4411 runs smoothly, you may need to oil it sometimes for sewing fairly.
Just put a drop of oil on the two small holes on either side of the presser foot.
Buy From Amazon
Singer 4411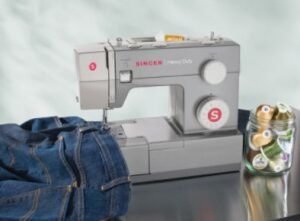 Good Value for Money
Product SKU: Singer 4411
Product Brand: Singer
Product Currency: $
Product In-Stock: InStock